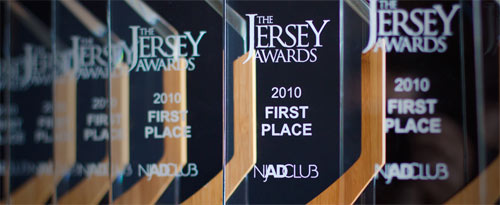 July 12, 2011 —- WESTFIELD, NEW JERSEY
The DavidHenry Agency announced that is has received 34 major awards for its recent work in custom publishing, healthcare advertising, integrated marketing and general creative services by Aster, the Healthcare Marketing Association and the New Jersey Ad Club (Jersey Awards).
"I am extremely proud of our team and the recognitions received on behalf of and for our clients," stated David Fink, President and Chief Communications Officer for The DavidHenry Agency. "It's not only terrific that these projects reflect several key areas of our business – Integrated Marketing, Interactive, and Custom Publishing Services, but more importantly that these initiatives helped our clients achieve their strategic and creative goals."
The DavidHenry Agency was honored to receive awards for the office space design and rebranding of the National Football League Alumni Association; the out-of-home campaign for Paterson Special Improvement District which drove traffic to the downtown shopping area; H Magazine, a consumer publication for Hackensack University Medical Center; and the multimedia campaign for Computershare, which sent a strong message to the global financial community about the disadvantages of the current proxy system.
Other client awards included advertising campaigns (print and digital), websites, magazines, public relations and other creative services for:  Atlantic Health System, Doylestown Hospital, Morristown Municipal Airport, New Jersey Lawyers Service, Newton Memorial Hospital, New Jersey State Opera, Tilcon New Jersey, Overlook Hospital and the Cardiovascular Care Group's The Vein Center.
The DavidHenry Agency is excited to be partners with all of these organizations.
Click here to view samples of The DavidHenry Agency's award-winning work.
The DavidHenry Agency is a full-service marketing and media company based in Westfield, New Jersey.  For more information, send an email to info@davidhenryagency,com or call 908.389.1200