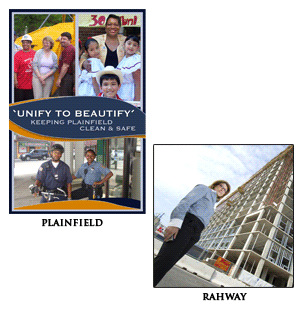 Westfield, NJ – May 15, 2007 – The City of Plainfield and the City of Rahway have both enlisted The DavidHenry Agency in their efforts to better connect with businesses and residents in their communities. The DavidHenry Agency, a full-service creative communications agency located in Westfield, has extensive experience helping public entities, including Mount Holly UEZ, Jersey City Economic Development Corporation (JCEDC), New Jersey Redevelopment Authority, Federal Highway Administration (FHWA), and the Propane Education and Research Council (PERC).
In the coming months, DHA will work with the City of Rahway to plan and implement the City's 150th Anniversary celebration. The milestone is especially important to Rahway, whose economic success in the early 18th century led to its incorporation as a city in 1858.
For Plainfield, DHA has been working closely with Wayne Awald, Plainfield's Coordinator of Economic Development. The Plainfield, Urban Enterprize Zone is one of the original ten UEZs in New Jersey. It offers businesses in the area a free UEZ membership with valuable benefits including various business assistance programs and tax incentives to encourage economic development in the community.
The DavidHenry Agency is located in Union County and situated less than ten miles away from both cities. Agency principals understand the importance of promoting the unique histories and exciting futures both cities offer to residents and the businesses.
David Fink, President and Chief Communications Officer at The DavidHenry Agency and a resident of Union County, said that he was "thrilled to be working with both Cities. We're confident that our understanding of these communities and strategic approach to marketing such public entities will yield tremendously positive results," Fink added.
The DavidHenry Agency is a full-service creative communications agency that provides an array of strategic, design, interactive and production services to some of the world's leading business-to-business and business-to-consumer brands, government agencies and local/state organizations in diverse industries. These services include the planning, development, implementation and tracking of all marketing initiatives and the media/materials that drive them.
For more information contact the DHA Public Relations department at info@davidhenryagency.com.