The DavidHenry Agency announces the unveiling of www.EnergizeStudents.org, the fully re-branded and redesigned face of the former Transitions To Complete Education website from New Hope Charitable Foundation.  The foundation is a member of the national group Association of Small Foundations and the North County Philanthropy Council. The mission of EnergizeStudents is to facilitate solutions to better educate today's youth, fostering the natural talents of each student, and giving them the tools to pursue their dreams.  This website is designed to be used as a platform to initiate and drive conversations that will Energize Students by reporting news and facts that inform the public about the "true" state of our education system, providing personal accounts of students, parents and educators that are struggling to succeed despite the system, assisting educators to implement functional, proven learning techniques into their classrooms, and facilitating constructive discussions via a discussion forum and blog to create positive solutions.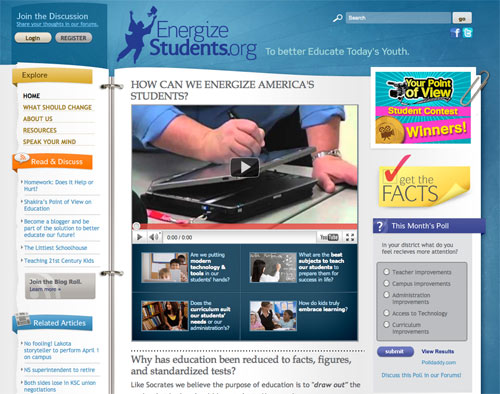 DHA built the site on the DotNetNuke development platform, giving it an easy to use collaborative content management system that allows fast, client-side updates to site content, blog entries, and syndicated news articles. Led by DHA, the rebranding effort included renaming the brand, development of a new logo, and the complete redesign and rebuild of the previous site including secure e-commerce functions for charitable donations.
Visit www.EnergizeStudents.org and join the discussion to improve education in America today and the future of our youth.