WESTFIELD, N.J., March 2, 2012 – American Athlete Magazine, a new interactive sports and fitness publication focusing on the American athlete's mind, body, and spirit, has launched its premiere issue. Designed exclusively for the tablet, American Athlete Magazine is available in the App Store for Apple iPad, or on iTunes in the App Store's Newsstand: (http://itunes.apple.com/us/app/american-athlete-magazine/id504586548?mt=8)
The magazine is scheduled to publish six issues per year; the first two issues will be free, with subscription and per issue price to be determined after publication of the second issue. The magazine has already been highly rated and reviewed in online communities by users – including Top App Reviews 101, CNET, Apple's iOSnoops and others – and it is being downloaded at a rapid rate.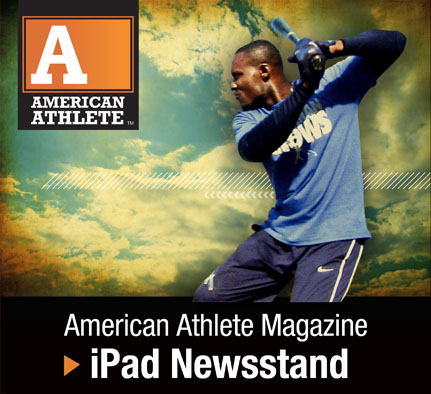 American Athlete Magazine explores elements common across all sports and competitive events: improving strength and endurance, developing positive nutrition and conditioning habits, balancing public and private life, building mental toughness, preparing for "go time," and learning to live with personal performance results, be they win, lose, or place.
The first edition of the app features a cover story on Orlando Hudson, the second baseman for the San Diego Padres who is not only a two time all star in Major League Baseball, but also created the successful charity C.A.T.C.H. (Curing Autism Through Change and Hope) Foundation. The article shares Orlando's leadership and commitment on and off the field, and with his family – and contains exclusive video interviews with Hudson in his hometown of Darlington, South Carolina where he and veteran TV host/correspondent Stacey Sweet discussed his life – and how he embraces Mind, Body & Spirit (American Athlete Magazine's motto).
Other features in American Athlete Magazine's premiere issue include:
"Forever Young" – A profile of teenage mountain climber Jordan Romero, who recently became the youngest person to successfully climb each of the World's Seven Summits, including video from his experience climbing Mt. Everest.
A one-on-one interview with Rich Franklin from the MMA – one of the fastest growing sports in America.
"The Knee's The Thing" – an in-depth look at the meniscus and what it does for your motion; how to prevent injury; how to rehab and a look at celebrity athlete's Alex Rodriguez, Chipper Jones and Gilbert Arenas' meniscus injuries.
"Faster than Humanly Possible" – A look at the technique of overspeed training, featuring video of American Athlete correspondent Mike Carlson taking part in an overspeed training session at Phase IV Scientific Health and Performance Center in Santa Monica, Calif.
"You Won a Gold… Now What?" – Former Olympians Kerri Strug (1996, gymnastics) and Mark Johnson (1980, ice hockey) discuss their strategies for getting on with the rest of their lives after the incomparable highs of their gold medal performances.
"Game Gear" – An interactive roundup of some of the best new sports and fitness products from top brands including Adidas, Pentax, and Oakley.
Initial sponsors of the magazine include Parisi Speed School, the chain of performance enhancement training facilities; and Europa Sports Products, a distributor of health and sport supplements, which will be promoting the NOW Energy Bar.
American Athlete Magazine was created by David Fink, founder and president of The DavidHenry Agency/DHA Publications, a marketing and media company specializing in branding, custom publishing, and interactive services. Fink also serves as the magazine's publisher.
"In launching American Athlete, we wanted to fill a niche that we perceived in the sports and fitness magazine category—getting inside the mind, body, and spirit of athletes and bringing their stories to a readership that craves more than just stats, scores, and workout tips," said Fink.
The magazine's mission is to "educate, entertain, and inspire," with just the right mix of content for any athlete, regardless of which sport(s) they play. "Our target audience is a diverse one—professional and amateur athletes at all phases of their lives; coaches; managers; trainers; and sophisticated consumers of interactive media," said Fink.  "With the continuing expansion of the tablet and e-reader space, the digital subscription model has caught on firmly.  People are increasingly choosing to click rather than turn a paper page. The sales figures for tablets back this up, with a recent report stating that over 66 million tablets were sold globally in 2011—a huge increase from the 18 million units sold in 2010."
More information about American Athlete Magazine can be found via its active social media presence on Facebook (www.facebook.com/americanathletemag) and Twitter (@aathletemag). The American Athlete Magazine media kit is available through the American Athlete Community Site at www.americanathletemag.com. For more information, call (800) 310-8250 or e-mail info@americanathletemag.com.