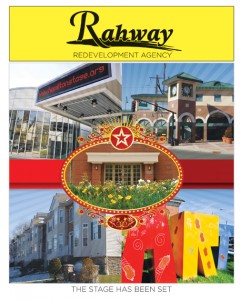 The Rahway Redevelopment Agency was looking to highlight and promote its successful development efforts, which spanned the last 15 years.  The goal was to share the town's unique approach to the redevelopment process, and included capitalizing on the town's brand and demonstrating its business friendly atmosphere for prospective developers and businesses. To assist the Rahway Redevelopment Agency in this communications effort, The DavidHenry Agency developed and executed a fully integrated marketing program.
The town leaders shared the keys to Rahway's redevelopment success with their stories. In reviewing the options, DHA decided that a video-based program would be the best way to bring these projects to life, with rich visuals showcasing each project.  In-depth on-camera conversations with project champions, including former Rahway Mayor Jim Kennedy, the driving force for many of the redevelopment efforts; Rahway Redevelopment Agency Chairman Bill Rack; and President Peter Pelissier helped weave the fabric of this success story together.  The result was a 20+ minute feature, enlivened with custom-written music, that captured the passion of a dedicated group of public servants and local business professionals who worked tirelessly over many years to realize transformative change and growth for the City of Rahway.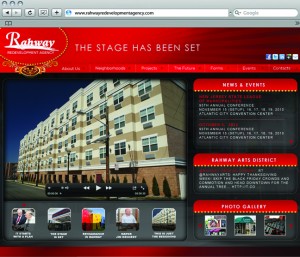 The newly constructed Hamilton Stage is the proud centerpiece of an arts and entertainment resurgence for Rahway. DHA capitalized on this dynamic draw for the City and used it as a theme across all creative elements.  A custom trade show booth mirroring the feeling of the Hamilton Stage was designed and built — complete with faux wood flooring and popcorn bags featuring a classic theater logo treatment.  The booth displayed mounted iPads running a Rahway Project Development app specially created as an interactive brochure with project overviews, custom photography, video segments and more.  A website and other supporting print collateral materials that worked within this theme were also developed as part of this program.
Cindy Solomon, the director of community development for the City of Rahway, who selected The DavidHenry Agency for this project and worked collaboratively with the DHA team on all aspects of the marketing program, said, "This program brings 15 years of redevelopment projects to life in an exciting and compelling way.  We now have the assets we need to show developers and business owners that Rahway is a vibrant and growing city. This really has helped us to "set the stage" for future growth in the City of Rahway."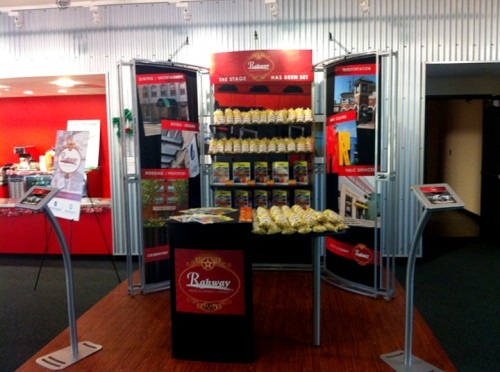 The DavidHenry Agency is a full-service marketing and media company based in Westfield, New Jersey.  For more information, send an email to info@davidhenryagency.com or call 908.389.1200, ext. 104.