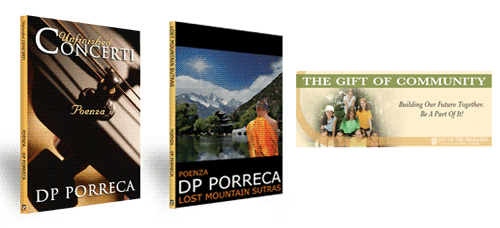 Westfield, NJ – May 15, 2007 – The DavidHenry Agency, a full-service creative communications agency located in Westfield, received four awards from The New Jersey Advertising Club for outstanding work the agency has developed for clients over the past year. The annual "Jersey Awards" competition, now in its 39th year, is one of the state's foremost creative awards programs.  It recognizes the work of state-based advertising agencies and in-house departments.
Jerseys taken home by The DavidHenry Agency at the ceremony last month included awards for a brochure designed for Q-Electric, the leading manufacturer of electric scooters in the U.S. market; book covers created for New Beagle Publishing, the first exclusive publisher of a new genre of poetry called 'poenza'; and a banner produced for the Palisades Jewish Community Center for the organization's Capital and Endowment Campaign. All of these designs are part of larger, integrated marketing campaigns for the agency's clients.
The DavidHenry Agency was also recognized earlier this year with a Marcom Award from the Association of Marketing and Communications Professionals for a quarterly newsletter it designs and produces for Tilcon New York Inc.  Tilcon mines and operates a 520-acre quarry located in Mt. Hope, NJ. Also this year, a brochure the agency created for the Jersey City Economic Development Corporation won a prestigious public sector award.
David Fink, President and Chief Communications Officer at The DavidHenry Agency said that he was "proud of the multiple honors and pleased that the industry recognizes the focus our agency has on creating memorable work that helps our clients achieve their marketing and business objectives."
The DavidHenry Agency is a full-service creative communications agency that provides an array of strategic, design, interactive and production services to some of the world's leading business-to-business and business-to-consumer brands, government agencies and local/state organizations in diverse industries. These services include the planning, development, implementation and tracking of all marketing initiatives and the media/materials that drive them.
For more information contact the DHA Public Relations department at info@davidhenryagency.com.