After completing a thorough agency review process, Aria Health, Philadelphia, PA, has selected The DavidHenry Agency (DHA) as its marketing and communications partner.  The first order of business?  Creation and roll out of Aria's new "Caring Neighbors" advertising campaign and the custom publication ARIA.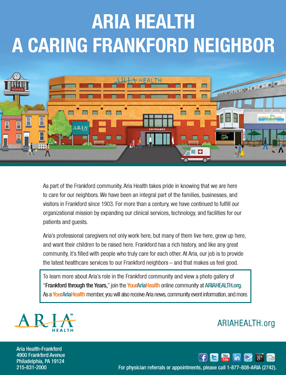 The Campaign:
The "Caring Neighbors" campaign was created to reach healthcare consumers in key served markets with Aria's "Advanced Medicine.  Personal Care." message.  The creative features each Aria Health hospital within its local community and amidst other recognized icons, illustrating the story of the close community partnerships Aria has built during its past 100+ years in Northeast Philadelphia and, more recently, in Lower Bucks County, PA.
The DavidHenry Agency created illustrative representations of each neighborhood in which Aria Health's hospitals are located, layering local icons such as eateries, parks, public transportation, educational centers, and homes together to create the visual partnership between Aria Health and its local communities.  The agency used the illustrations in an integrated, targeted campaign for each market, including billboards, train station posters and banners, bumper magnets, print advertisements, mall banners, and animated movie theater ads.

The Custom Publication:
ARIA debuted in January 2012.  In collaboration with Aria and its clinical experts, The DavidHenry Agency developed the custom content (interviewing Aria-designated subjects to promote expertise in key therapeutic areas), created the layout, and managed the print, production and distribution of the magazine.  ARIA will be distributed quarterly to approximately 75,000 households in the hospital's market service area.
Aria Health has grown to be the largest healthcare provider in Northeast Philadelphia and Lower Bucks County, recruiting top-notch physicians, acquiring cutting edge technology, and embracing modern technologies that serve to strengthen and support its commitment to patients.   While doing so, Aria remains true to its local communities, offering patient education and outreach activities, wellness programs, and ready-access for its patients. T hese brand promises were the most important to convey in the campaign message and throughout the custom publication.
DHA and Aria will leverage traditional and modern marketing measurements, combined with ongoing market research, to measure the effectiveness of these marketing initiatives, developing, creating, and executing the next phase of the integrated marketing plan for release this Spring.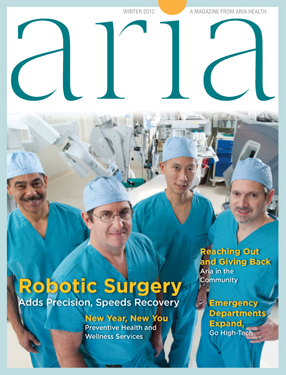 For more information on ARIA magazine, download the Media Kit.
To learn more about The David Henry Agency's integrated marketing and communications services, call 908-389-1200, ext. 108.