Westfield, N.J., May 31, 2012 – American Athlete Magazine, which launched its premiere issue in early March, has quickly gained popularity among athletes and industry professionals to become one of the dominant digital sports and fitness publications in the United States. Issue 1.2 London Olympics Edition continues the magazine's mission of Mind, Body and Spirit by exploring elements common across all competitive sports: improving strength and endurance, developing positive nutrition and conditioning habits, building mental toughness, preparing for game time and learning to live with personal performance results.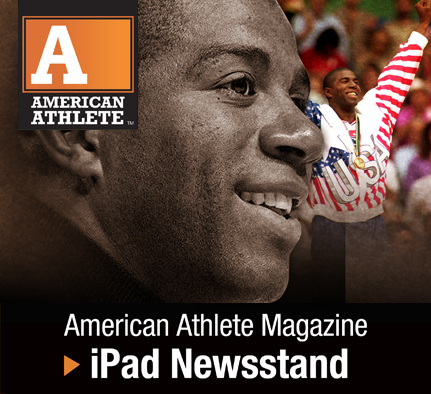 The cover story, "Heart of Gold" features Magic Johnson who reflects on his Olympic experiences and giving back to the community by having his success drive the success of others. American Athlete Magazine shows what it is like, and what is required to compete at the most challenging levels by presenting the true portraits of athletes like Johnson so readers can achieve their personal sports and fitness goals.
Other features in Issue 1.2 of American Athlete Magazine include:
"Music In Mind" – A feature explaining the connection between music and the mind and how it prepares, motivates and inspires athletic performance.  Music mogul and sports fan, Russell Simmons shares his playlist and opinion on the impact of music on athletes.
"The Top Olympic Hopefuls" – One hundred days before the Olympic games the top Olympic hopefuls such as swimmer Eric Shanteau, gymnast Nastia Liukin, field hockey player Lauren Pfeiffer, beach volleyball player Phillip Dalhausser and others share their final preparations and training techniques.
"Forever Young II: Perfect Girl" – A profile of Chelsea Baker, a 14 year-old female baseball player in a boys league who pitched her second perfect game; how she balances school, family, friends and what the future holds for Chelsea.
"Kickstarting a New Sport – Footvolley Scores in the States" – A look into the new, acrobatic beach sport footvolley — professionals who play volleyball with their feet; what the sport entails and its learning curve so you can start playing.
"Eating for Energy and Recovery: How to Fuel Your Workouts" – pre and post-workout nutrition for best performance and recovery.
David Fink, founder and publisher of American Athlete Magazine shares, "We are extremely excited and pleased with the response from our premiere issue – and what seems to be a product that is filling a void in the sports and fitness industry by bringing athletes the content they desire through an unprecedented interactive experience."
Lead sponsors for Issue 1.2 include Parisi Speed School and Nogii gluten-free protein bars from Europa. American Athlete Magazine Issue 1.2 is free to download in the Apple App Store and Newsstand from an iPad. American Athlete Magazine continues to educate, entertain and inspire readers to become their personal best – with two issues released and a rapid download rate, Fink adds, "We're confident that American Athlete Magazine will continue to have a tremendous impact on the fast-growing, network of sports and fitness communities."
More information about American Athlete Magazine can be found via its active social media presence on Facebook (www.facebook.com/americanathletemag) and Twitter (@aathletemag). The American Athlete Magazine media kit is available through the American Athlete Community Site at www.americanathletemag.com. For more information, call (800) 310-8250 or e-mail info@americanathletemag.com.