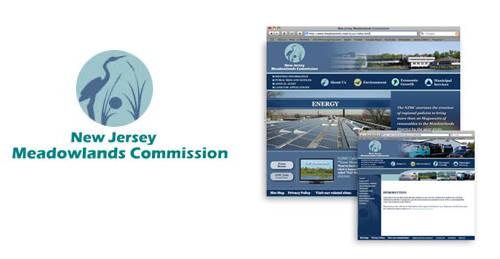 Westfield, NJ – Monday, April 28, 2008 – Finding your way around the New Jersey Meadowlands Commission's website just got a lot easier, thanks to the redesign completed by The DavidHenry Agency. The NJMC, the zoning and planning agency for a 30-square-mile area along the Hackensack River, covers parts of 14 municipalities in Bergen and Hudson Counties. As the Meadowlands is a unique place for new jobs, thriving communities and recreational opportunities in New Jersey, the NJMC website needed to reflect all these possibilities.
DHA worked with the NJMC to improve the appearance of the site and highlight the importance of the work the NJMC does. The website now reflects the responsibilities the NJMC has for promoting eco-tourism, energy, flood management, and transportation. The site is equally accessible for those curious about the opportunities the Meadowlands has to offer the general public (did you know you can get a guided tour by pontoon of the Hackensack River and the wetlands?) as well as for those needing to access the site for contracting, meeting and application purposes. (All documents and forms are now just a click away.)
David Fink, President and Chief Communications Officer at The DavidHenry Agency, noted that, "The NJMC came to us with a mission: to make their website more user-friendly and show all the initiatives that come within their purview more strongly. The redesign reflects these goals, and the website is now much more accessible to those who need it."
The DavidHenry Agency is a full-service creative communications agency that provides an array of strategic, design, interactive and production services to some of the world's leading business-to-business and business-to-consumer brands, government agencies and local/state organizations in diverse industries. These services include the planning, development, implementation and tracking of all marketing initiatives and the media/materials that drive them.
For more information contact the DHA Public Relations department at info@davidhenryagency.com.