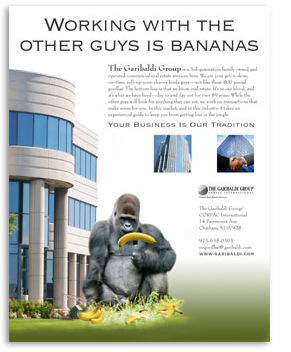 Westfield, NJ – Monday, April 28, 2008 – The Garibaldi Group, a privately owned firm with over 85 years of experience in the commercial real estate industry, services the global needs of the corporate and investment arenas. Their clients include such Fortune 500 companies as Viacom, Continental Airlines, and Lipton – and now The DavidHenry Agency is this illustrious company's agency of record, tasked with revamping branding and advertising and asked to provide ongoing media support.
DHA began the process with designing new ads using the new tagline it developed, "Your business is our tradition."
"The DavidHenry Agency is an extremely adept organization that encompasses the ultimate in professionalism, commitment to client satisfaction and platform of services. Their advertising team understood our desired audience impact and created an eye-catching and concise marketing campaign." – Tara Keating
"We're always pleased with the opportunity to work with a company of such long-standing," stated David Fink, President and Chief Communications Officer at The DavidHenry Agency. "Giving a new look and feel to an established business, to help draw in new clients while keeping the current ones, is a challenge we look forward to meeting."
The DavidHenry Agency is a full-service creative communications agency that provides an array of strategic, design, interactive and production services to some of the world's leading business-to-business and business-to-consumer brands, government agencies and local/state organizations in diverse industries. These services include the planning, development, implementation and tracking of all marketing initiatives and the media/materials that drive them.
For more information contact the DHA Public Relations department at info@davidhenryagency.com.