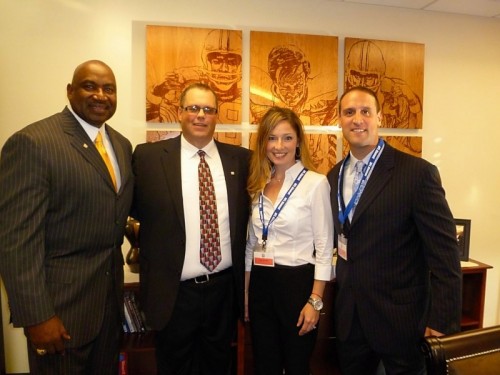 Newark, NJ – The NFL Alumni (NFLA), newly headquartered in Newark, NJ, hosted a grand opening event at One Washington Park, a 17-story high-rise across from Newark Bears & Eagles Stadium on Wednesday evening, July 28, 2010.  The event was well attended by local dignitaries, including Mayor Cory Booker of Newark, as well as NFL commissioner Roger Goodell, Giants owner John Mara, NFLA Executive Director George Martin, as well as Mrs. Sylvia Mackey, wife of football great John Mackey, in whose memory the office's conference room — "The 88 Room" — was dedicated.
As the fraternal organization for all retired NFL players, the NFLA is focused on advocating for those players' rights and benefits, including retirement, pension, and healthcare, medical research, and employment opportunities post active play.  As the NFLA's marketing and communications partner, The DavidHenry Agency was recognized for their successful partnership with the organization, and for their contributions to the office space personalization including the design, production, and installation of wall murals, sidelights and the custom engraved wall art for George Martin's office.
Shelley Schoenfeld, Director of New Accounts for The DavidHenry Agency said "We were very proud to be part of this special evening, and prouder still to be partnered with such a professional, exciting, and forward thinking organization, on its path to changing the way retired NFL players take advantage of the next stage of their lives after active play." 
Click here to learn more about how The DavidHenry Agency's integrated marketing communications services can help drive your business objectives.