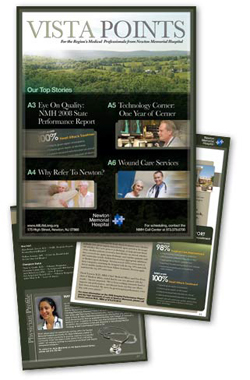 Westfield, NJ – May 15, 2009 –Last year Newton Memorial Hospital decided to become an affiliated hospital member of Physicians Practice magazine. The vehicle, which reaches over 500 physicians and other key community leaders within the Newton Memorial's professional network, allows the hospital to let these doctors know just what it's doing to stay on the cutting edge of medicine and to share practice building techniques leveraging the hospital's resources.
Newton Memorial tasked the DavidHenry Agency with designing the look and writing the content for this important marketing tool. The insert, called Vista Points, features articles on topics that range from the latest technology and service improvements to a doctor's corner where the top physicians get the spotlight and discuss what makes their practices so successful – a nice way to highlight Newton's key doctors.
The DavidHenry Agency is a full-service creative communications agency that provides an array of strategic, design, interactive and production services to some of the world's leading business-to-business and business-to-consumer brands, government agencies and local/state organizations in diverse industries. These services include the planning, development, implementation and tracking of all marketing initiatives and the media/materials that drive them.
For more information contact the DHA Public Relations department at info@davidhenryagency.com.